Please note, South Stoke Parish Council has a Facebook page releasing all news items relating to the residents of South Oxfordshire, please use this as a valuable resource for many more pieces of news then we are able to usefully load on to this page.  You do not need to be a member of Facebook to see this, please just click on this link and you will be able to see all the items.
We understand some parishioners may feel Facebook is not the correct conduit to get information out to the residents.  Unfortunately, most of the information is coming to us via social media (Facebook and Twitter) so is therefore very easy to reshare on a Parish Council page directly, this ensures the information is up to date, relevant and most importantly accurate.
Below are some important pieces of the latest news.
---
Why the Playgrounds Remain Closed
Why aren't the local playgrounds reopening?
The Parish Council would like nothing more than to be able to open the playground equipment, but at this time, with the current government guidance and communication from insurers, we don't yet have a solution.
To clarify one point though, the open spaces (the Gardiner Rec, Sheepcot Field and the Bourdillon Field) are open to the public.  The play equipment areas at Gardiner and Bourdillon are not.
The reason the play equipment is not open, stated simply, is because the easy answer to the current government guidance is clear ONLY if children are accompanied by supervising adults.  By definition, and the appropriate British standard for play equipment areas, they are designed to be safe for unaccompanied / unsupervised play.  This puts the onus on local Parish Councils to decide if the play equipment is 'safe', though the definition of 'safe' with regard to unaccompanied children is lacking in all the government guidance – and of course, there is no supporting funding either.
But didn't the Government say it was okay to re-open the playgrounds?
On 23rd June the Prime Minister announced that from Saturday 4th July, "…pubs, restaurants and hairdressers will be able to reopen, providing they adhere to COVID Secure guidelines."  He went on to say "...some leisure facilities and tourist attractions may also reopen, if they can do so safely – this includes outdoor gyms and playgrounds…".  The phrase 'if they can do so safely' is the catch.
Just over half of parish and town councils reopened their outdoor play areas on 4th July, the date the UK Government permitted after the lockdown period due to COVID-19.  This survey, commissioned by the Society of Local Council Clerks of 5,000 towns and parishes, found though, that nearly 50% were still uncertain how to adhere to the Government's social distancing and hygiene guidelines.
The Goring-on-Thames Parish Council chose to not yet reopen, though that decision to keep the play equipment areas closed was not an easy one.  It would have been far easier to succumb to the vocal parents' and grandparents' displeasure, do some risk assessments, create some new rules, post a bunch of signs, establish a cleaning routine and open things up.   But in reality, it is much more complex than that.
The primary problem lies in the intent of the playgrounds to be a safe, unaccompanied space for children over 3 years of age, not requiring parent/guardian involvement in the play experience.  The government guidance for COVID-19 reopening is completely focused on accompanied/supervised visits.  It is absolutely clear that a good deal of usage of Goring and neighbouring playgrounds are without adult supervision.
To help us work through the issues, we have engaged with our insurers and attempted to do the required risk assessments.  In those assessment, we keep getting stuck on how we would properly address the issue of unaccompanied children using the equipment.
We asked our insurers if we could simply put up appropriate signage that says, 'All children must be accompanied by a responsible adult', and we were informed that a sign would not reduce liability if an unaccompanied child used the play equipment – and it may actually increase our liability.  In no way does a sign relinquish our duty of care.   As children cannot legally accept risk until they are between 13-16yrs (depending on the circumstances), a sign is therefore irrelevant whether it is asking for the users to clean the equipment before and after use, to not clean the equipment as it has been treated for safety purposes, or whether it states that all users must be accompanied.
There must be some other solution, aren't their special cleaning agents or other hygiene options?
We did look at some long-lasting chemicals/materials that could be applied to the equipment, and we found one that looked promising.  It would need to be applied every 21 days, but it MUST NOT be cleaned in-between applications.  Human behaviors are hard to modify and it was decided if we put up a sign asking for users to NOT CLEAN the equipment, there is still a risk that they clean the equipment before or after use anyway (as that is a requirement with some other play equipment locations), and then we would need to monitor to ensure that no one cleaned between the treatments.  We know of a local facility who has treated their equipment, and they have staff onsite observing the users and ensuring that equipment is not cleaned to allow the treatment to work.  The Parish Council does not have the resource to provide onsite staff during all the usage times.  The treatment is also quite pricey, considering all these factors treating the equipment was not pursued further.
Surely it is the users' or parent's responsibility, isn't it?
Though that may seem logical, it is not necessarily true – especially as the users are children.  In other words, if the playgrounds were opened and people didn't follow the rules, the Parish Council is still responsible and may be liable for any harm if it could not be shown that the Council had procedures in place to enforce the rules.
Why are other local parishes opening their playgrounds, but not Goring?
That is the other parish or town decisions.  Goring Parish Council has assessed the two play equipment areas with all the information available to us.  If other parishes or towns are relying on signage to parents/guardians to ensure adherence to hygiene and social distancing, that would, in our view, be problematic.  We did ask the legal department at SODC if they could offer help / alternate options, we were told we had to our own assessment, on the advice of our insurers and other information available to us, which we have done.  Equally, there have been reported instances in local communities of unaccompanied children using equipment inappropriately, and disregarding signage – creating serious concerns for the authorities responsible for those spaces.
How long is this going to go on?
We don't know.  We are continuing to try to find options that would satisfy the identified risk mitigation.  We are hoping that the government will address the issue of unaccompanied children, but we are not certain if this is even being considered.  We are also open to suggestions as to ways forward.
The Council absolutely understands that keeping the play equipment closed is not at all an ideal solution, but it is less bad than an unaccompanied child be harmed or unknowingly exposed to the coronavirus and unintentionally spreading it to their households.
Other non-COVID Reasons for an extended closure
All play equipment areas must be inspected by RoSPA each year.  Our inspection was recently completed and flagged up a number of remedial works which must be completed.  We have sought quotes from maintenance companies and will be instructing one to complete a more detailed inspection of the area and ask them to quote for the remedial works.
We ask that your understanding be given on these matters.  Many parishes and towns are commissioning these additional inspections and remedial works whilst there is the opportunity due to the extended closures, it is therefore hard to get a booking for just the detailed inspections to be done. GPC want to be ready for when (or if) the additional guidance is supplied regarding unaccompanied children.
---
Face Coverings Available Locally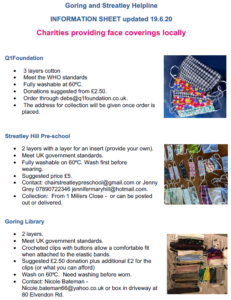 ---
Parking Charges return across SODC and VOWH from 8th June 2020.
NHS staff and care workers who display the official HM Government COVID-19 parking pass can continue to park for free. To claim a pass, they need to contact their employer who will issue a permit to park in all council car parks.
---
Message from Oxfordshire Clinical Commissioning Group
PRACTICE NURSES – YOUR COUNTY NEEDS YOU!
Oxfordshire's Patient Care during Coronavirus programme is asking experienced practice nurses to join the teams in our dedicated COVID-19 clinics across the county.
If you are not currently working in one of our Oxfordshire practices but are interested in helping care for patients during the pandemic, please complete this quick availability survey and we will contact you. Thank you and please share this link with your networks https://surveyhero.com/c/e7684979
---
Prescription Process in the Parishes of Goring and Streatley
The communications group set up in response to the COVID-19 pandemic in the villages of Goring and Streatley have created 2 documents to help the residents navigate the current processes regarding the asking for and collecting of prescriptions.
There are two versions of the document:
These documents are particularly relevant to those who have street champions collecting their prescriptions for them, but it also details the current timescales relevant to all parishioners collecting prescriptions during this time.
---
SODC Recommence Bulky Waste Collections
South Oxfordshire and Vale of White Horse district councils have reopened their paid-for bulky waste collection service for large household items and are also issuing a warning about fly-tipping while other outlets for domestic waste remain closed.
With household waste recycling centres still closed, along with charity shops and their donation banks, there are fewer places to dispose of unwanted items that do not fit into kerbside collections.
The councils have issued a warning to anybody tempted to fly-tip –  this includes leaving rubbish next to litter bins – that they will investigate and prosecute anyone found to be responsible.
Bulky waste collections
It is a paid-for service costing £40 for up to three items – and £8 per additional item, up to a maximum of six items.
As the council offices are currently closed to the public, at this time we can only take orders online using credit or debit cards for payment.
Examples of items collected:
furniture (such as sofas, chairs, and tables)
televisions
washing machines
mattresses
fridges and freezers – household only (not ones made for commercial use.
The council cannot collect any type of commercial waste or DIY waste.
---
Register for SSEN Priority Service
SSEN have contacted the Parish Council asking us to make the residents aware of their priority service.  Please register online.
Or fill in their postal form: SSEN-Priority-Services.
---
News update from Oxfordshire County Council
New coronavirus clinics to help patients across Oxfordshire
Praise for Oxfordshire's inspirational care teams care teams.
New hotline for diabetes patients during COVID-19.
Health and well-being services affected during the coronavirus:
There are a range of well-being and health services that are affected during this period. If you need to find out about services such as: support to quit smoking, sexual health clinics and weight management sessions, please click here.
Local information about services affected during the Coronavirus:
Updates about critical frontline services such as fire and rescue, waste collections, highways and children's social care.
For information and updates about other services.
---
Current Advice 11:40am, Saturday 11th April.
ACCIDENT AND EMERGENCY – Royal Berkshire Hospital
If you have an accident and it is a minor injury that you would normally go to an A&E department for, you MUST NOT go to the RBH. Please go to either Townlands Hospital in Henley or Thatcham Community Hospital.
If you have a major injury CALL 999. You will be taken to separate A&E departments at RBH or the John Radcliffe.
The main A&E department at the RBH is ONLY for people who suspect they have COVID-19
---
Oxfordshire residents have been warned to be on their guard against criminals and scammers exploiting the coronavirus situation.
Some scammers are claiming to be charity workers, offering assistance with shopping, or requesting donations.
Here are some tips from our Trading Standards team on how to check charity workers are genuine (graphic attached for social media and websites):
How to check if they are genuine:
Check the charity's name and registration number at gov.uk/checkcharity. Most charities with an annual income of £5,000 or more must be registered.
Make sure the charity is genuine before giving any financial information – it's ok to decide not to give on the spot. Be wary of unsolicited emails from charities you have never heard of and be careful when responding to emails or clicking on links within them.
Exercise the same caution as with any other internet transaction, for example, to donate online. Visit the charity's own website and always type the website address into the browser yourself.
Contact or find out more online about the charity that you're seeking to donate to or work with, to find out more about their spending. Ask a trusted friend, neighbour or relative if you are unable to research this or need a second opinion.
Ignore requests to donate through a money transfer company.
Full details and advice from our Trading Standards team here:
https://news.oxfordshire.gov.uk/oxfordshire-residents-warned-against-coronavirus-scams/
---
Oxfordshire County Council Message
Please do not light garden fires during the current Coronavirus pandemic.
As well as the danger of the fire spreading uncontrollably, there are people in the community living with serious respiratory problems, which could be made much worse if the sufferer is exposed to smoke from bonfires.
Instead, please compost your garden waste where possible, and stack or bag up rubbish for disposal when the current emergency is over.
---
Thames Valley Police Message 
Regarding Coronavirus incidents, please remember:
📞 101 – if a group is breaking social distancing guidelines and the incident is happening now.
💻 Report online – anything else relating to COVID 19
☎️ 999 – if a life is threatened or a crime is in progress (as usual)
---