The Goring-on-Thames Parish Council has 10 seats, and currently is made up of 8 elected and 2 co-opted unpaid Councillors, a Clerk, an Assistant Clerk, a Facilities Assistant, and other support staff.  We strive to represent the interests of the village and its residents.  The Full Council meet regularly, as do the various committees including Planning Committee, Finance Committee & Traffic Management, Parking and Pedestrian Safety Committee.
The Goring-on-Thames Parish Council office is temporarily in the Gardiner Pavilion, located at the Gardiner Recreation Ground, Upper Red Cross Road, Goring.
Please continue to contact us by emailing Clerk@GoringParishCouncil.gov.uk, you are welcome to make an appointment to meet with the Clerk at a mutually agreeable time, however if you want to drop in, standard opening times are 09:30 – 12:30 each Tuesday and Friday.
---
Open Spaces Review 
UPDATE! due to the overwhelming response to date, the consultation period has been extended to the 10th February
Thirlwall Associates (Landscape Architects) has submitted a report on Goring's Open Spaces based on their independent views following review of the open spaces usage and potential, extensive consultation with residents as well as sports clubs.  For full details and view the request for comments please see this page of our website.
---
To comply with our financial policies, the Council must re-tender certain contracts every 3 years.
The Council is currently seeking tenders for:
1) Grass Cutting / Ground Maintenance
2) Grave Digging
3) Tree Management
All three have a closing date of 12 noon on 1st March 2023, to allow them to be considered at the normal March meeting of the Council on the 2nd Tuesday of the month.
For full details of how to submit a tender please see this page.
---
Please sign up to our e-mail list if you wish to have updates from the Parish Council delivered directly to your inbox:
---
GPC is a local authority which makes decisions on behalf of, and represents the interests of, the people in the parish. It is the level of local government closest to the community, with the district authority (South Oxfordshire District Council) and the county authority (Oxfordshire County Council) above it in the hierarchy. 
Different tiers of local government are responsible for different things in our community.  Please see below a quick reference guide as to the main areas of responsibility of Goring-on-Thames Parish Council, South Oxfordshire District Council and Oxfordshire County Council.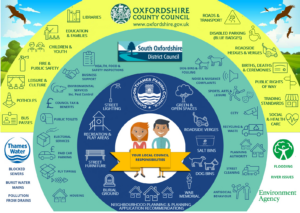 ---