A Selection of Latest news items; Generally from SODC & OCC
Unpublished May Submission to Goring Gap News
The Annual Parish Council Meeting for Goring-on-Thames Parish Council was held online 4th May 2021.  This meeting is very administrative each year and includes various appointments and standard financial and reporting matters are reviewed.
Kevin Bulmer was re-elected Chairman and John Wills Vice-Chairman as they were each unopposed.  Memberships of committees were decided and the Terms of Reference reviewed and approved.  Councillor responsibilities were also reviewed and approved.
Because of a proposal by Goring-on-Thames in Bloom to replace the roadway signs at the entrance to Goring, the matter was discussed.  Though the principle of replacing the signs was broadly supported, a member of public raised concern that though the Parish Council was named Goring on Thames, the village name is Goring.  Prior to any approval of the signs, the Clerk with the assistance of the District Councillor were tasked to look into the matter.
A week later, after help from the District Councillor, it was confirmed that indeed, Goring is the official name of the village, and the Parish Council (and therefore the Parish) was renamed to Goring on Thames some years ago at the request of the then-Parish Council.   There was also explored the ability to change the name, and the means to do that.  There are different options – from simply changing the name on the street signs as one enters the village by road, to more formally changing the name for the postal address.  In the time from the meeting, two other members of public raised concern about usage of public funds for these potential changes, and the view that it may seem merely a 'vanity exercise'.  There will be a proposal at a future meeting to do a simple, no-cost consultation explaining the options and determining what approach the community would prefer, if any change is considered at all.
There was a request by representatives of Goring Robins and Goring United football clubs.  They sought approval to enter into an agreement to improve the Sheepcot and Gardiner football pitches. The idea was broadly welcomed but there was concern that no cost should be expected of the Parish Council, and additionally about where the necessary equipment would be stored.  This issue has subsequently been discussed with representatives of the Clubs and the Parish Council, and a way forward has been identified.  This will need to be approved by the Council.
The GAP Festival's request to block-book the Rectory Garden and part of the Gardiner Recreation Ground for 2-12th June 2022 was approved.  There were also a number of requests for purchase of items and services, all detail to be available in the final minutes.
The annual accounts were approved and the statutory forms completed and approved.  Though it was noted by the internal auditor that no external audit report for the years 2017-18, 2018-9, and 2019-20 had been received.  There was a formal complaint made by a parishioner in 2018, and after the external auditor informed the Parish Council that further information was sought, no details were forthcoming.  The previous Clerk and the acting Proper Officer (during the two months when there was no Clerk) regularly chased the external auditors for this information, but with no response.  In August 2020 there was an e-mail from the external auditor that wasn't answered, but as it turns out, this request was not was not followed up on by the auditor.  There has finally been, mid-May 2021, a specific request of information required by the auditor to finalise the documentation and will be addressed in the coming weeks.  This has been quite frustrating as the external auditor is appointed by the Government regionally, without involvement of the Parish Council.  The level of service has been very lacking.
More details can be found in the papers for the meeting, and ultimately in the draft then finalised minutes on the Parish Council website (www.goringparishcouncil.gov.uk).
---
Ridgeway visitors urged not to damage historic route
Read the full story on the Oxfordshire County Council website here.
Visitors to the Ridgeway National Trail in the south of Oxfordshire are being urged not to drive or park where they are not allowed, following an increase in reports of damage to the ancient trackway.
An increase in visitor numbers is expected over the Christmas holiday period at the historic trail, as families head for the popular walking route. It comes at a time when the trail is already busier than ever and the surface is vulnerable to damage because of the wet conditions.
---
Census 2021
Households across Oxfordshire will be asked to take part in Census 2021 this spring.
The Census, run by the Office for National Statistics, is a once-in-a-decade survey that gives us the most accurate estimate of all the people and households in England and Wales. It has been carried out every ten years since 1801, with the exception of 1941.
This year, for the first time, the Census will be digital first. All households will receive a letter in early March with a unique access code, allowing them to complete the questionnaire on 21 March on their computers, phones or tablets. For some of our residents, this will make things easier, but OCC understand that for others it could be challenging.  The parish council are working with them to find central venues to complete the census for those who do not have internet access at home.
---
SODC Communication on CIL & S106
South Oxfordshire District Council has made changes to its strategy for infrastructure funding in a move to release further funds for larger community projects across the district.
The changes to the way the council spends Community Infrastructure Levy (CIL) funds will mean that money secured from housing developments in the district will be released for projects that make a significant difference to communities and help fulfil the strategies outlined in the council's corporate plan.
The council reviewed the process to allocate CIL funds to find ways to release funds to make better use of them and maximise the benefits to the local communities. The changes agreed by the cabinet now means that funds could also potentially be used across the district boundaries in the Didcot garden town area to pay for new infrastructure.
The new criteria will also enable CIL and Section 106 agreements to be used in combination to support projects. CIL monies can now also be combined to help introduce larger projects in one area or repair or replace a facility if needed.
---
Reduce, reuse, recycle…and re-gift too this Christmas
Read the story on the Oxfordshire County Council website here or below:
No matter how you are planning on celebrating Christmas this year, one online tool is likely to prove invaluable when it comes to dealing with the aftermath.
Whether you're trying to find out what to do with unwanted gifts, discarded Christmas trees, or leftover food, Oxfordshire County Council's Waste Wizard, and other sources of advice, will tell you all you need to know about how to dispose of it.
---
Free Parking for Christmas Shoppers
People in the Vale of White Horse and South Oxfordshire can park for free on specific days this December and are being urged to use this opportunity to support their local shops and cafes in the run up to Christmas.
Each year Vale of White Horse and South Oxfordshire District Councils provide free parking days during December to help encourage people to shop locally for their Christmas presents.
With many shops affected by the Covid-19 restrictions, this year it is particularly important that people support local traders where they can, while maintaining social distancing and face covering requirements
Motorists can park in district council car parks without paying for or displaying a ticket on the following days in December:
Abingdon – Saturdays (5, 12, 19 December)
Faringdon – Saturdays (5, 12, 19 December)
Wantage – Saturdays (5, 12, 19 December)
Didcot – Mondays (7, 14, 21 December)
Goring – Saturdays (5, 12, 19 December)
Henley – Tuesdays (8, 15, 22 December)
Thame – Saturdays (5, 12, 19 December)
Wallingford -Thursdays (10, 17, 24 December)
Users will not have to display a ticket on the free days.
---
New speeding taskforce group aims to save lives
Residents will be given more of a say on how to stop drivers speeding in their neighbourhoods, thanks to a new organisation set up to tackle the problem in Oxfordshire.
The speeding taskforce group is a joint initiative involving Oxfordshire County Council, Oxfordshire Fire and Rescue Service, Thames Valley Police and the Thames Valley Police & Crime Commissioner. Announced to coincide with Road Safety Week, its aims include educating drivers about the dangers of breaking the speed limit and helping communities to tackle the issue.
Read the story on the Oxfordshire County Council website
---
Oxford Zero Emission Zone pilot proposal out for final consultation
The final consultation for the proposed Oxford Zero Emission Zone (ZEZ) pilot has now opened and runs until midnight on Sunday 17 January 2021.
Oxfordshire County Council and Oxford City Council are now asking for views from residents, businesses and visitors on a revised ZEZ pilot proposal after a similar consultation was paused in March 2020 because of the pandemic.
The proposed ZEZ pilot aims to reduce the city's air pollution levels, tackle the climate emergency and improve the health of residents, workers and visitors to Oxford and beyond.
Anyone can take part in the consultation by visiting Oxfordshire County Council's website
Further details on the pilot proposals can be found here.
Frequently asked questions on the pilot proposals can be found here.
---
Projects moving forward for Didcot Garden Town Advisory Board  
Members of the Didcot Garden Town Advisory Board met last week to hear about the latest developments for Didcot Gateway and other key initiatives around the town.  You can watch the meeting in full via https://youtu.be/QfXTrFSOKGo.
The board were updated on the district councils' plan to build their new offices at Didcot Gateway, which will be located opposite the railway station.  During the meeting Homes England's proposal and online community engagement, which took place during this summer, to redevelop the Gateway area was discussed.  The district councils are pleased to be working with Homes England to ensure the new councils' offices provide an important part of the overall sustainable redevelopment of the site.
Members were updated on a range of initiatives, including plans for a new health centre and a county council led project to improve roads and cycle paths for the wider garden town area.
If you'd like to hear more about the latest developments in Didcot Garden Town or are interested in joining one of the resident or business sounding boards, you can sign up to the latest newsletter here.
---
Have your say on proposed changes to off-street parking in South Oxfordshire 
People in South Oxfordshire are encouraged to give their views on some proposed changes to parking arrangements in the district council's off street car parks.
Over the summer the South Oxfordshire District Council's Cabinet agreed to amend the district's parking policy, including changes to charging periods to ensure all towns are treated equally, and measures designed to encourage the use of electric vehicles in order help tackle the climate emergency by reducing emissions.
The council is now giving people the chance to have their say before the new parking policy is finalised in early 2021. The council will also seek comments from statutory consultees such as the Police, the highways authority and town and parish councils.
The following changes are being proposed: 
Standard charging periods and times (9am-5pm) to be adopted in all town centre car parks across the districts, including an hour's free parking available at any time during that period, this ensures that those in Henley receive the same benefit as the other towns
Charges for Sunday parking to apply for all car parks, not just in some locations
A maximum stay of two hours to be introduced at the High Street car park in Chinnor to help reduce congestion
Half price permits for electric vehicles (capable of travelling 20 miles on zero CO2)
Additional parking for electric vehicles and powers to issue fines for parking non-electric vehicles in electric charging bays, or for leaving an electric vehicle in the bay when it's not charging
To find about more about the proposals and to take part in the consultation please visit southoxon.gov.uk/parking.  The consultation is open until Thursday 19 November.
---
Oxfordshire Artweeks is a not for profit members company designed to support amateur and professional artists and craft makers as well as community and charity groups, that live or work in Oxfordshire.  This is a financially challenging time for Artweeks we need artists support during this uncertain time so that it can survive to support artists beyond 2021.
The biggest change for visitors in 2021 is there will not be a printed guide book as it is highly unlikely that our distribution points will be able to take printed material to distribute in early April. We will be relying on local advertising and the public visiting the website to view the flip book version or to use the website searches to find venues.
---
Thames Valley Police – Scam Warning
Thames Valley Police are urging people in Oxford to remain cautious after an elaborate scam has resulted in victims losing a total of £15,000.
A man, described as being of Mediterranean appearance, in a dark coloured car, has been approaching people asking for directions to Heathrow Airport.   He claims to be a fashion designer with Giorgio Armani and that he has excess stock he is unable to take back to Dubai with him due to the high cost.   He asks people to lend him money to cover the cost of his car hire on the promise that the money will be paid back.
He encourages the individuals to provide their bank account details and will then drive them to the bank where the money is withdrawn and handed over. The contact details passed over to the individuals turn out to be false and no money is ever paid back. This scam results in a significant financial loss and poses a risk to the victim's safety by agreeing to get in a car with a stranger.Where personal details including bank details have been handed over, this also leaves the victim open to identity fraud.
Thames Valley Police also are urging the following:
– Never agree to lend a stranger money, no matter how elaborate and believable their story may be.
– Never agree to purchase or accept items from a stranger – These items may be stolen and you could be implicated as being involved in handling stolen goods.
– Never reveal personal details to a stranger, especially banking details.
– Never agree to get in a stranger's car, no matter how friendly and trustworthy they may seem.
– Contact your bank immediately if you think you've fallen for a scam and report it to Action Fraud. Please always call 999 in an emergency.  For more information, visit the national Take Five to Stop Fraud (https://takefive-stopfraud.org.uk/) campaign.
---
The next revaluation of business rates in England and Wales is coming up in 2023. The Valuation Office Agency is writing to businesses to request rental information to support this work.   
Once ratepayers receive a letter they need to go online and submit their up-to-date details.
Please see the government's information page for more information.
---
Extra-large garden waste collections
Brown bin customers can put twice as much garden waste out for collection during SODC's extra garden waste week next month.   
During these weeks, customers can put out an extra brown bins worth of garden waste on their normal garden waste collection day in the week commencing 2 November– that's three bin bags' worth of extra garden waste.
---
Make the River Thames 'Safe for All'
South Oxfordshire District Council is stepping up its campaign to make the River Thames safe for wildlife and river users by calling for an end to sewage overflows, more public information on water quality and more stringent water testing in the river.
The Thames and its tributaries in Oxfordshire are a haven for wildlife and biodiversity. They are popular with locals and visitors for paddling, swimming, kayaking and paddle boarding.
But growing concerns about sewage pollution puts much of this at risk and councillors have backed a motion brought forward by Cllr Jo Robb to call for more stringent testing and to reduce pollution.
---
OCC Press Release Regarding Bonfire Night
As Bonfire Night approaches, Oxfordshire County Council is reminding residents that the safest way to celebrate is to attend a professionally organised public event that is confirmed as COVID-19 safety compliant, following local and national guidance.
---
New diversity and inclusion strategy for South Oxfordshire 
Councillors have approved the creation of a new diversity and inclusion strategy for South Oxfordshire District Council.
The new strategy will aim to ensure the council is doing everything it can to be inclusive to all BAME and other diverse and hard-to-reach communities in its staff recruitment, representation and service provision.
Equality is already of paramount importance to the council and this new strategy will complement an existing, robust equalities policy that has been in place for many years. This policy already ensures that the council plans and provides services, policies and employment opportunities in a fair, inclusive and equal way to foster good relations and meet everyone's needs.
---
The Park & Charge project – consultation on electric vehicles
SODC are working with Oxfordshire County Council on a project to install Electric Vehicle charging points in a range of public car parks in 2021. As part of that work, colleagues at the county council have launched a survey gathering data on residents' opinions on electric vehicles.
The results of the survey will inform decisions on public charging infrastructure across the whole county and so we're helping to promote it to our residents. The survey is available here.
---
Hallowe'en Boosts Food Waste by 10%
OCC are asking residents to consider how to make best use of their pumpkins, October and November see on average 10% more food waste due to wasted pumpkins over the Hallowe'en period.  Consider a very simple pumpkin soup recipe or even pumpkin curry this autumn to make best use of your scary decorations.
URL : http://news.oxfordshire.gov.uk/oxfordshire-residents-asked-to-cut-scary-amount-of-food-waste-this-halloween/
---
Recycle Week
To mark Recycle Week SODC Waste team has created a series of social media videos to help residents to get their recycling right and to help lower rates of recycling contamination.
They have also published the results of their Great Green Bin Recycling Quiz which launched over the summer.  It you didn't get the chance to take part and you'd like to test your recycling knowledge you still can by clicking on the link.
---
Oxfordshire to re-open more libraries
Library users can look forward to more Oxfordshire libraries reopening on 28th September and 5th October.
The changes mean that from the week beginning Monday 28th September, Faringdon, Sonning Common, Watlington and Goring libraries will reopen. On the week beginning 5th October, Chinnor, Woodgreen, Charlbury and Wychwood libraries will open again.
Oxfordshire County Council has already successfully reopened 20 libraries including Abingdon, Banbury, Berinsfield, Bicester, Blackbird Leys, Carterton, Chipping Norton, Cowley, Didcot, Eynsham, Headington, Henley, Kidlington, Summertown, Thame, Wallingford, Wantage, Woodstock, Witney and the Oxfordshire County Library in the Westgate Centre having successfully reopened.
Please check Oxfordshire Libraries website for the current opening hours as they may not be the same as pre-Covid-19 and may be subject to change.
Library users can now return items with no risk with the book drop boxes accessible in or out of opening hours. People can also of course return them inside our safely-adapted libraries.
Library visitors will be asked to wear face coverings, pay by card where possible and contact details will be requested when visiting.
Please check their website for any changes and advice for visiting libraries as they reopen on the library service page.
---
Electric Blanket testing
The county council is offering free electric blanket testing as they do every year, but because of Covid restrictions the process will be a bit different.
They'll post a special plastic bag to the address for residents to put their electric blanket in, and then someone will come and collect the blanket from their homes, take it away to be tested and then return it once it's done.
The tests will be carried out across Oxfordshire in October. Book now by calling 01865 895999 Option 1 or emailing communityengagement@oxfordshire.gov.uk – there's more info in the attached flyer.
---
South Oxfordshire Local Plan Consultation
SODC has just launched a six-week consultation on a number of changes proposed by the Planning Inspector to South Oxfordshire's emerging Local Plan 2035.
To view and have your say on the Proposed Main Modifications and supporting documents please visit southoxon.gov.uk/newlocalplan, the deadline for giving feedback is Monday 2 November.
If you know someone without internet access, they can view the documents at the following locations listed below.  However, we are urging people to check the opening times and any Covid-19 and social distancing measures that might be in place before travelling:
-Public libraries in South Oxfordshire – people can check which libraries are open on Oxfordshire County Council's website
-Chalgrove Post Office
-Culham Parish Council (contact Cllr Casey-Rerhaye to arrange a viewing of the documents – Sam.Casey-Rerhaye@southoxon.gov.uk  or 01235 799489)
Note – the availability of the documents at these locations might change in response to the ongoing pandemic.
The consultation documents are also available at our offices on Milton Park, however as our offices remain closed to the public this is strictly by appointment-only.  Appointments can be arranged through our Planning Policy team on 01235 422600 or email planning.policy@southoxon.gov.uk – they can also provide any support with accessing the consultation materials
---
Inspector publishes preliminary findings into South Oxfordshire Local Plan 
South Oxfordshire District Council has received the Inspector's preliminary findings on the emerging South Oxfordshire Local Plan.
The Planning Inspector sent the council a letter, which sets out his preliminary conclusions on the key matters that arose during the examination of the emerging Plan, which is being progressed through examination following a Direction from the Secretary of State earlier this year.
A spokesperson for South Oxfordshire District Council said: "We are reviewing the inspector's preliminary findings. In this letter and throughout the examination process, the Inspector has identified main modifications that must be made for the plan to be considered 'sound'."
The Inspector is not inviting comments on his preliminary findings, instead there will be an opportunity this autumn for the public to comment on the main modifications that will be finalised following the Inspector's instructions.
Cllr Anne-Marie Simpson, Cabinet Member for Planning at the district council, added, "We will encourage our residents to provide feedback on the main modifications – so many people have been involved in the process so far, and it's important that they continue to make their voices heard in such an important process for our communities."
The Inspector's letter is available on the council's website at www.southoxon.gov.uk/examination
---
Public Governor Elections 2020 – South Central Ambulance Service
Your local NHS Ambulance Service needs your help for our next elections in 2020!
Our next Governors election will be happening soon in 2020. It's never too early to register your interest in putting yourself forward for election by emailing: company.secretary@scas.nhs.uk
Elections will be held in the following areas:
Public Governors:
Buckinghamshire (2 seats)
Oxfordshire (2 seats)
Berkshire (1 seat)
Hampshire (3 seats)
Governors play an important role in helping to shape and support the emergency and non-emergency services that the Trust provides in the South Central region.
Find out more about the role: https://www.scas.nhs.uk/elections/
---
Plans underway for the re-opening of leisure centres in Southern Oxfordshire
Last week the government announced details for when leisure centres and swimming pools could re-open. South Oxfordshire and Vale of White Horse District Councils are working with Better, who run the council leisure facilities, to agree to a re-opening plan for the leisure service that complies with the government guidance and meets the industry standards.
There will be a gradual, phased opening of the centres, with careful measures being put into place for both staff and public safety.
Following discussions with Better, it has been decided that unfortunately it will not be viable for the councils to open the outdoor splash pools and swimming pools in Abingdon and Wallingford this year including the campsite at Riverside. The council run splash pads in Wantage will also remain closed this summer. All sites are very popular with users and it was not an easy decision to take but one where all parties felt there were no other options.
---
South Oxfordshire Local Plan Examination Hearing The examination hearing started 14 July, and will be publicly available to view live on the council's special YouTube channel. A link to the YouTube channel is available on the council's Local Plan examination webpage .
During the four-week long hearing, housing numbers and the location of the key sites proposed for housing will be debated along with how much of neighbouring Oxford's unmet need South Oxfordshire should cater for. Other topics that the independent Planning Inspector, Jonathan Bore is chairing discussions on include whether or not the plan takes a sound approach towards the Green Belt, if the plan's infrastructure policies are sound, and if the plan takes a proactive approach to mitigating and adapting to climate change.
---
Volunteers sought for COVID-19 trial
People aged 50 and over are being sought to take part in a trial into treating COVID-19. Over 50s with specific underlying health conditions and all over 65s with suspected COVID-19 can apply to take part in the University of Oxford study at www.principletrial.org. Participants are randomly allocated to receive usual care or usual care and an existing medication. It is hoped the trial can help people get better quickly and stop them needing to go to hospital. The study is funded by UK Research and Innovation and the National Institute for Health Research. Contact the study team at principle@phc.ox.ac.uk / 0800 138 0880.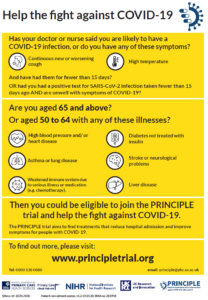 ---
SODC are asking for residents what is important to them with regard to the future of South Oxfordshire.  Open to public consultation, please complete the questionnaire here.
---
SODC Communication – Recycling
Thousands of residents in southern Oxfordshire have found their recycling bins unemptied each week because they have put the wrong things in them. To remind residents about what can (and cannot) be recycled, South Oxfordshire and Vale of White Horse district councils have devised a new recycling quiz available here: https://survey.southandvale.gov.uk/s/TheGreenRecyclingBinQuiz/
---
Goring Neighbourhood Plan (2018-2033)
On Thursday 4 July 2019 residents voted for the adoption of the Goring neighbourhood plan. The official results were as follows:
Votes in favour of adopting the neighbourhood plan (YES vote): 835 (62.9%)
Votes against adopting the neighbourhood plan (No vote): 492 (37.1%)
Turnout: 49.6%
Further details of the process and the plan are available here
---
Election 2019 Result
The election was uncontested – a list of current members is available here
George Michael Celebrations
Consultation Questionnaire
Now Closed – Results available below:
REPORT – GM Consultation
Following an offer by the council of Sheepcot Recreation Ground the organisers have decided not to run a music event in 2019.
NEW (November 2018) – Additional Defibrillator now available at Goring and Streatley Railway Station
Defibrillator at the Village Hall
22nd October 2015
Download defibrillator instructions on the use of the defibrillator which is located at the Village Hall, together with a link to a training video.
Goring and Streatley – "Accessible by Train" to disabled visitors
T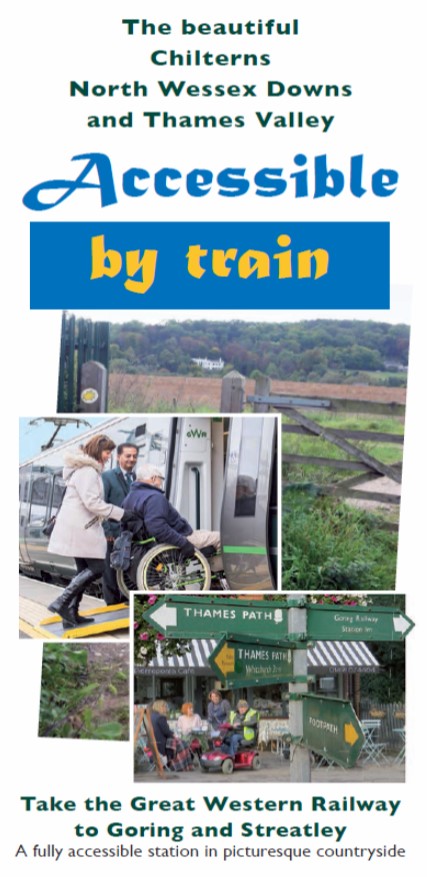 he Accessible by Train leaflet was produced with sponsorship from Great Western Railway and Goring-on-Thames parish council. It will be on display at local railway stations, libraries and tourist information offices in and around the Thames valley and can be downloaded here or from: www.nationaltrail.co.uk/ridgeway/leaflets/
Report on the Judicial Review and Appeal regarding Goring Weir
1st August 2018 – A copy of the council's final report is available here
Parish Council's Response to Oxfordshire County Council's Unitary Consultation
18th July 2016
A copy of the response is available here.
Freedom of Information and Data Protection Acts
1st July 2015
Here is a link to the Information Commissioner's Office for information on the Freedom of Information and Data Protection Acts.