COVID19 specific News can be found here.
---
Public Governor Elections 2020 – South Central Ambulance Service
Your local NHS Ambulance Service needs your help for our next elections in 2020!
Our next Governors election will be happening soon in 2020. It's never too early to register your interest in putting yourself forward for election by emailing: company.secretary@scas.nhs.uk
Elections will be held in the following areas:
Public Governors:
Buckinghamshire (2 seats)
Oxfordshire (2 seats)
Berkshire (1 seat)
Hampshire (3 seats)
Governors play an important role in helping to shape and support the emergency and non-emergency services that the Trust provides in the South Central region.
Find out more about the role: https://www.scas.nhs.uk/elections/
---
Plans underway for the re-opening of leisure centres in Southern Oxfordshire
Last week the government announced details for when leisure centres and swimming pools could re-open. South Oxfordshire and Vale of White Horse District Councils are working with Better, who run the council leisure facilities, to agree to a re-opening plan for the leisure service that complies with the government guidance and meets the industry standards.
There will be a gradual, phased opening of the centres, with careful measures being put into place for both staff and public safety.
Following discussions with Better, it has been decided that unfortunately it will not be viable for the councils to open the outdoor splash pools and swimming pools in Abingdon and Wallingford this year including the campsite at Riverside. The council run splash pads in Wantage will also remain closed this summer. All sites are very popular with users and it was not an easy decision to take but one where all parties felt there were no other options.
---
South Oxfordshire Local Plan Examination Hearing The examination hearing started 14 July, and will be publicly available to view live on the council's special YouTube channel. A link to the YouTube channel is available on the council's Local Plan examination webpage .
During the four-week long hearing, housing numbers and the location of the key sites proposed for housing will be debated along with how much of neighbouring Oxford's unmet need South Oxfordshire should cater for. Other topics that the independent Planning Inspector, Jonathan Bore is chairing discussions on include whether or not the plan takes a sound approach towards the Green Belt, if the plan's infrastructure policies are sound, and if the plan takes a proactive approach to mitigating and adapting to climate change.
---
Volunteers sought for COVID-19 trial
People aged 50 and over are being sought to take part in a trial into treating COVID-19. Over 50s with specific underlying health conditions and all over 65s with suspected COVID-19 can apply to take part in the University of Oxford study at www.principletrial.org. Participants are randomly allocated to receive usual care or usual care and an existing medication. It is hoped the trial can help people get better quickly and stop them needing to go to hospital. The study is funded by UK Research and Innovation and the National Institute for Health Research. Contact the study team at principle@phc.ox.ac.uk / 0800 138 0880.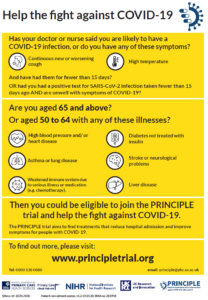 ---
SODC are asking for residents what is important to them with regard to the future of South Oxfordshire.  Open to public consultation, please complete the questionnaire here.
---
SODC Communication – Recycling
Thousands of residents in southern Oxfordshire have found their recycling bins unemptied each week because they have put the wrong things in them. To remind residents about what can (and cannot) be recycled, South Oxfordshire and Vale of White Horse district councils have devised a new recycling quiz available here: https://survey.southandvale.gov.uk/s/TheGreenRecyclingBinQuiz/
---
Goring Neighbourhood Plan (2018-2033)
On Thursday 4 July 2019 residents voted for the adoption of the Goring neighbourhood plan. The official results were as follows:
Votes in favour of adopting the neighbourhood plan (YES vote): 835 (62.9%)
Votes against adopting the neighbourhood plan (No vote): 492 (37.1%)
Turnout: 49.6%
Further details of the process and the plan are available here
---
Election 2019 Result
The election was uncontested – a list of current members is available here
George Michael Celebrations
Consultation Questionnaire
Now Closed – Results available below:
REPORT – GM Consultation
Following an offer by the council of Sheepcot Recreation Ground the organisers have decided not to run a music event in 2019.
NEW (November 2018) – Additional Defibrillator now available at Goring and Streatley Railway Station
Defibrillator at the Village Hall
22nd October 2015
Download defibrillator instructions on the use of the defibrillator which is located at the Village Hall, together with a link to a training video.
Goring and Streatley – "Accessible by Train" to disabled visitors
T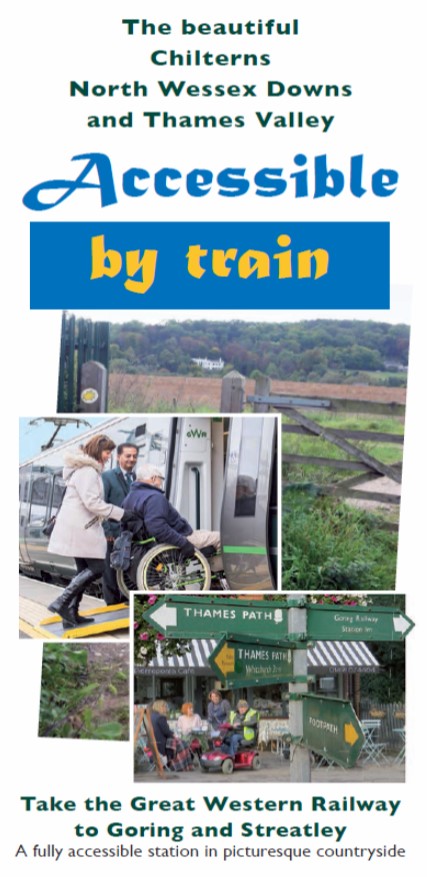 he Accessible by Train leaflet was produced with sponsorship from Great Western Railway and Goring-on-Thames parish council. It will be on display at local railway stations, libraries and tourist information offices in and around the Thames valley and can be downloaded here or from: www.nationaltrail.co.uk/ridgeway/leaflets/
Report on the Judicial Review and Appeal regarding Goring Weir
1st August 2018 – A copy of the council's final report is available here
Parish Council's Response to Oxfordshire County Council's Unitary Consultation
18th July 2016
A copy of the response is available here.
Freedom of Information and Data Protection Acts
1st July 2015
Here is a link to the Information Commissioner's Office for information on the Freedom of Information and Data Protection Acts.