The Goring-on-Thames Parish Council has 10 seats, and currently is made up of 8 elected and 2 co-opted unpaid Councillors, a Clerk, an Assistant Clerk, a Facilities Assistant, and other support staff.  We strive to represent the interests of the village and its residents.  The Full Council meet regularly, as do the various committees including Planning Committee, Finance Commitee & Traffic Management, Parking and Pedestrian Safety Committee.
The Goring-on-Thames Parish Council office is temporarily in the Gardiner Pavilion, located at the Gardiner Recreation Ground, Upper Red Cross Road, Goring.
Please continue to contact us by emailing Clerk@GoringParishCouncil.gov.uk, you are welcome to make an appointment to meet with the Clerk, however at this time we are not operating "open office hours" this is because of a large archiving project which is taking up most of the space in the office.
---
Summer of Play 2022
There are just a few days to go to the start of #GoTSoP2022.  This year's Summer of Play is running from 1st-21st August 2022, and following a different format to last year concentrating on the large group events to bring the community together rather than lots of small events.  Please start booking your tickets now.
Book GoTSoP2022
---
Please sign up to our e-mail list if you wish to have updates from the Parish Council delivered directly to your inbox:
---
GPC is a local authority which makes decisions on behalf of, and represents the interests of, the people in the parish. It is the level of local government closest to the community, with the district authority (South Oxfordshire District Council) and the county authority (Oxfordshire County Council) above it in the hierarchy. 
Different tiers of local government are responsible for different things in our community.  Please see below a quick reference guide as to the main areas of responsibility of Goring-on-Thames Parish Council, South Oxfordshire District Council and Oxfordshire County Council.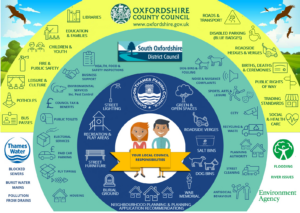 _______________________________________________________________