Goring-on-Thames Parish Council currently has the following vacancies:
Vacancy for Clerk & Responsible Financial Officer
STAFF VACANCY
Clerk & Responsible Financial Officer
The Parish of Goring-on-Thames is located in the District of South Oxfordshire, within the Chilterns Area of Outstanding Natural Beauty (AONB) with an Electoral Roll circa 2750.
Applications are invited for the post of Clerk and Responsible Financial Officer.  This is an office / site based, part time, permanent vacancy for 20 hours per week (+ up to 10 hour overtime if required).  It is not possible to fulfil the requirements of this role solely from home, and involves some evening meetings.  A parish council laptop and mobile phone will be provided, in addition to the Council equipment for use at the Council Offices.
Salary offered is pro rata to the national scale LC2 (24-28) of between £29,174 and £32,798 a year for a full time (37 hrs a week) equivalent.  The Parish Council currently enrols the Clerk into the Local Government Pension Scheme.
The successful candidate will play an integral role in serving the parishioners of the Civil Parish of Goring-on-Thames and will be responsible to the parish council as a corporate body.
For further information, an application pack is available to download at https://www.goringparishcouncil.gov.uk/ or please contact the present Clerk by emailing Clerk@GoringParishCouncil.gov.uk.
Closing date for applications: 4.00pm on Monday 06th June 2022.  Applicants are requested to submit a completed application form (available directly from the clerk, or download from the website), and will also include a C.V. and covering letter.  Applications should be marked confidential and for the attention of the Parish Clerk.  Candidates will be interviewed on the 9th & 10th June.
Clerk Application Form – PDF
Clerk Application Form – Word, editable file
Job Description – Clerk
Person Specification – Clerk
Advert – Clerk
Councillor Vacancy.
Note: the following vacancy is to be filled by election; provisionally scheduled by SODC for 14th July 2022.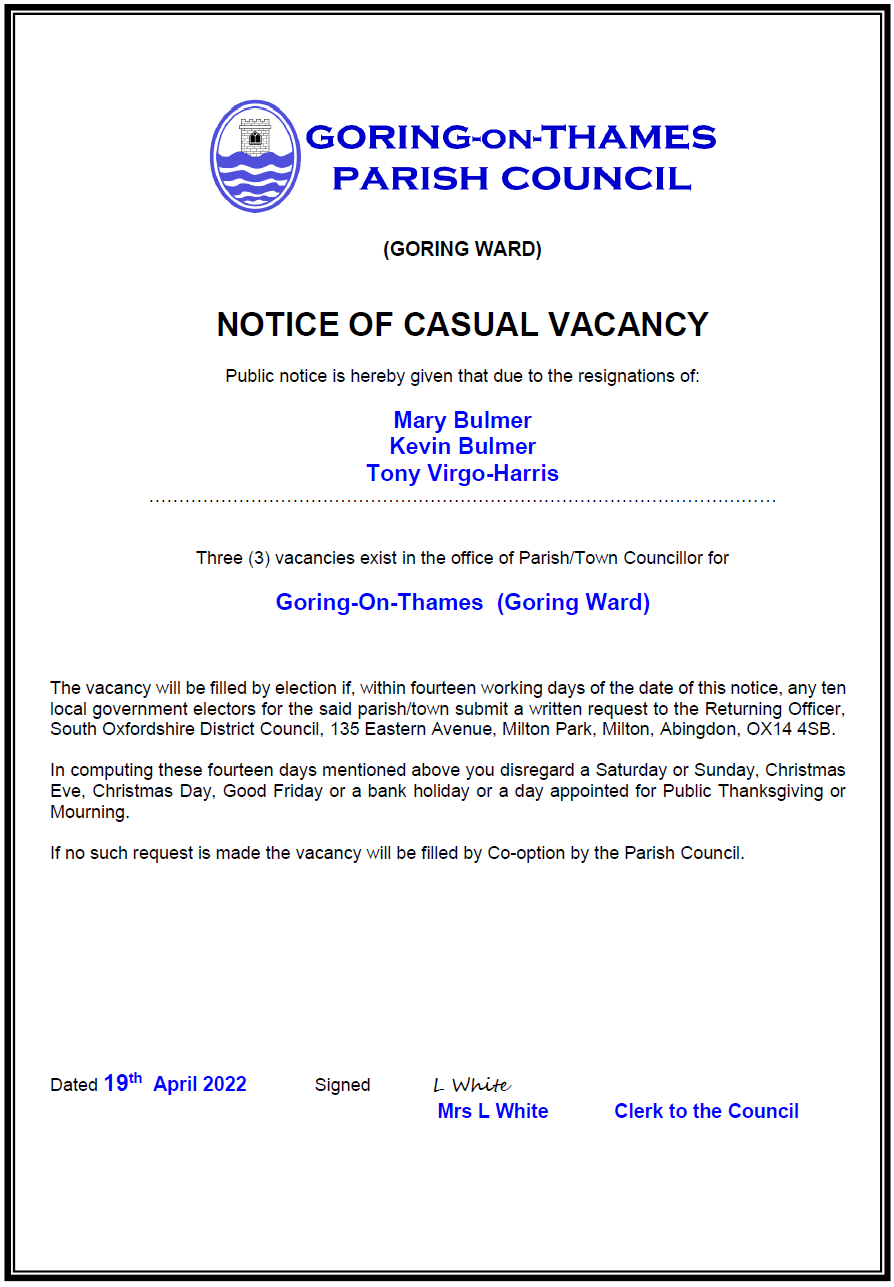 Results of Election